BMW M8 / M8 Competition is released - Should Aston or Ferrari be worried
---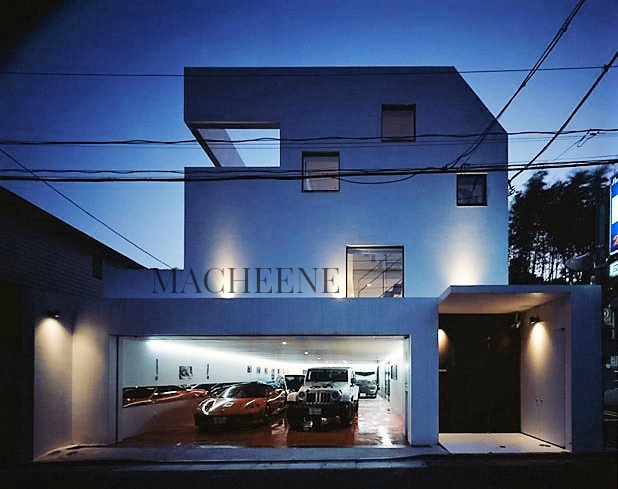 admin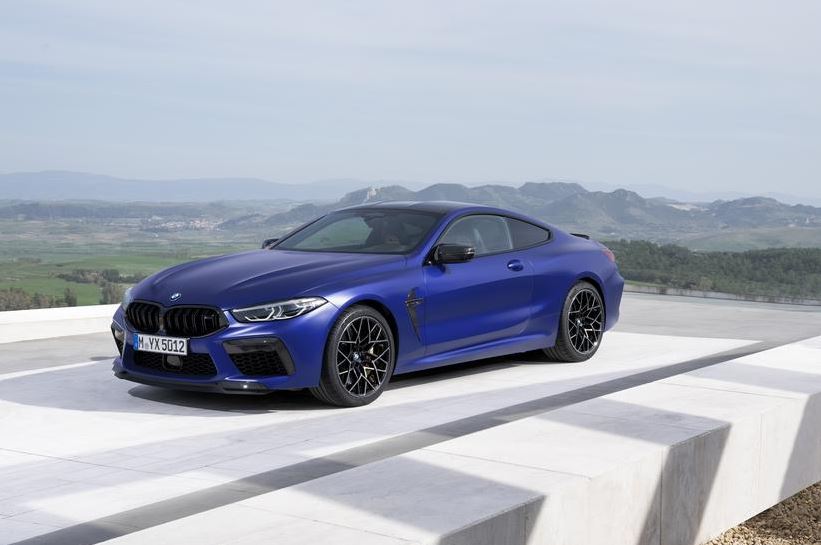 BMW M8 / M8 Competition is released - Should Aston or Ferrari be worried
You ever hear of someone striking way over there weight or height, most recently if anyone watched boxing the Andy Ruiz and Anthony Joshua fight the feeling of David & Goliath came to my head but sometimes good things come in some unusual packages. The M8 comes in as the sportiest yet at the same time the most luxurious coupe in the BMW line up. While niche coupe brands are separating themselves with separate coupes for all occasions such as Benz with the S-Class Coupe and the AMG GTR for your track events or the gentleman's sports car the Aston Martin DB11 and the Aston Martin Vantage there are companies who create tweeners to attack both aspects. Can one car truly do it all, as most BMW Fan Boyz know in M we trust...




The heart of the car is still in rotation just with a few minor updates and that is the BMW 4.4L Twin Turbo V8 boasting 600 HP in normal mode and 617 HP in competition form. The engine currently has the world on fire due to its performance figures in the new M5 breaking ground as one of the premier sports sedans $100k can buy. That sedan weighs more and is heavier so what happens when the same engine goes into it's lightest iteration well this should be magic or supercardom.. When we talk about sporty the speed is important but when you are under the 3.0-second mark in a 0-60 time you look at life a bit differently. The performance god's tell me there is only a few cars that could match this prowess let's do a quick walk, Chevy ZR1, Porshe Turbo S, Acura NSX can barely scrape at this time, and Lambo Huracan to name a few. There is one problem with all of these did I mention that the M8 actually has a backseat. Among other things, this probably will be the fastest GT/Sports car available in the market. How else has the BMW improved as being recognized as being hitting above its weight killer. Look at the top 5 from a performance perspective:
7200 Redline in a Turbo ...

617 HP / 600 LB TQ available at 1800 RPM - 0-60 in 3.1 seconds & 3.0 seconds in competition form

AWD is added for traction to go - 8 Speed M Steptronic Tranny ensures optimal performance

Advanced new cooling system - 2 water circuits feeding the engine and the intercoolers

M Drivers Package adds a new top speed of 189 MPH



M cars also bring one dynamic presence when it comes to sports cars and that is the ability to turn and handle at a race track of your choice and the ability to than serenade you in comfort for a 200-mile long journey back to the casa. Will this be a different the split personality it why these exists even though the M leans much more to the sporty side. Adaptations include new active M Differential, in addition to M xDrive All Wheel Drive. Double Wishbone front with 5 link rear suspension with unique bushing settings accentuate the sporty driving behavior. 3 Drive modes to give you options as feel through your needs depending on the driving occasion from Comfort, Sport, to Sport Plus for the most ill-mannered behavior on public roads. A special brain in the Electromechanical M Servotronic steering system allows some helpful feedback dependant on occasion for straight line driving experience or it feels you need the edge during a turn. Available setups below for the car sporting 275/35 - 285/35 tires:
Engine characteristics – Efficient, Sport and Sport Plus.

Suspension characteristics – Comfort, Sport and Sport Plus

Steering characteristics – Comfort and Sport

Braking characteristics – Comfort and Sport

4WD settings – 4WD, 4WD Sport and 2WD
We have gone over the interior in previous M releases no real changes here except for the M emblems and special dual colored seat appointments. The driving assistance programs are now available for the sportiest of the 8 series class include the basics of Lane assistance, safety collision features, and traffic guidance to name a few. The exterior not as aggressive as M passed hence why it's boggled in with the rest of the features instead of its own section. The one telling feature that your in an M is the quad exhaust, Carbon Fiber Roof come standard and the signature front bumper openings that are larger to cool the M8's engine, breaking, an transmission.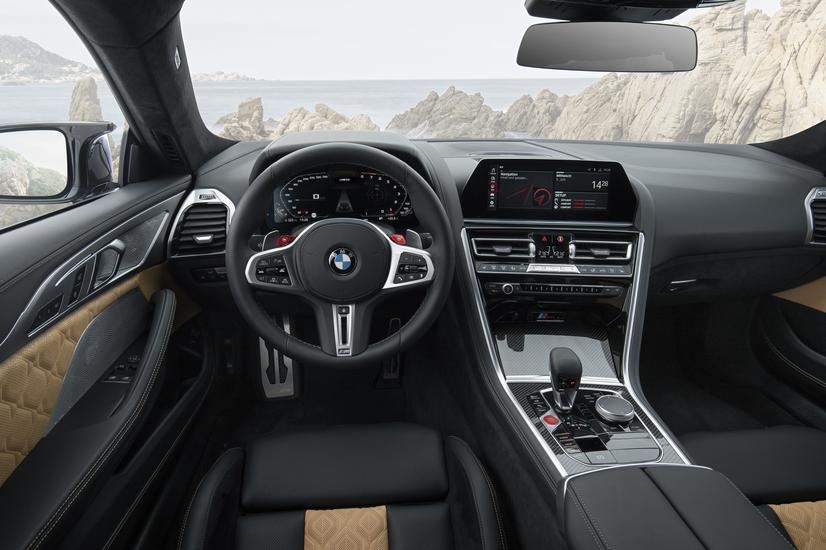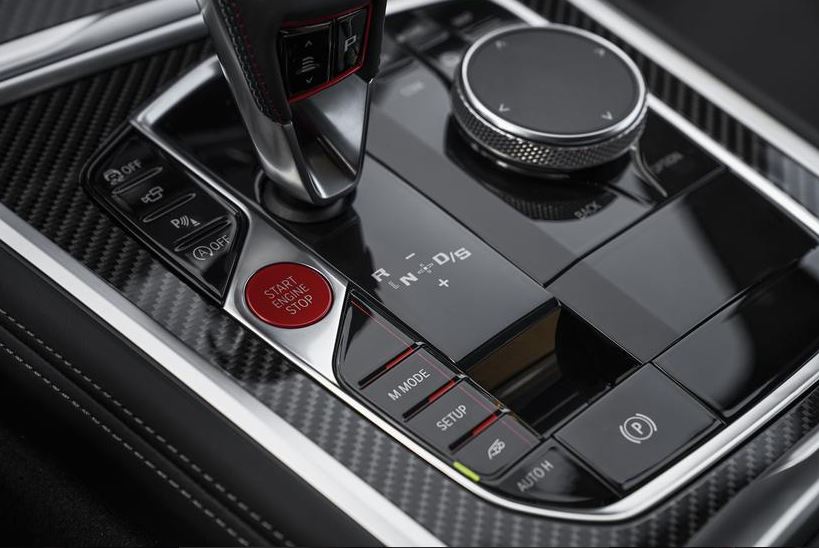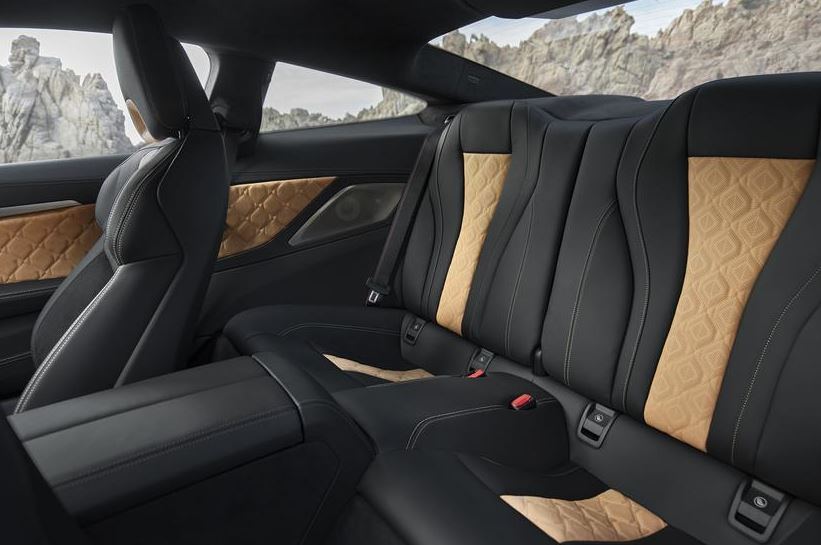 In all in a market that has an option, the M comes in to dominate the 2 doors wars in all segments which is a difficult task but may be the best of both worlds.
Welcome to M at a house dealership near you prices start in the $132k range.
---
---